Pocketfleet

Diagnostic

Solutions


Live Virtual Gauges to watch engine data in an easily readable format. Our realistic gauges contain a digital panel with the actual value displayed and refresh several times a second


6 Thermometers display line thermal readings from common engine and transmission temperature sensors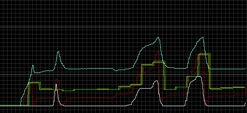 Live Graph to show up to 6 PID simultaneously while viewing other tabs. see spikes and other anomalies while the vehicle is connected.

AVAILABLE SOON
PF-Diagnose
Truck diagnostic software Available HERE

Powerful Diagnostics is now affordable for even the smallest fleet See PF-Diagnose
POWERFUL DIAGNOSTIC SOFTWARE THAT WON'T BREAK THE BANK!

IMPORTANT UPDATES AVAILABLE FOR FULL HD AND HD with OBD-II
SEE VERSIONS PAGE
Truck Mechanic's Help and Discussion Forum. Get answers here from expert truck mechanics
Certified Truck Mechanics, Diesel Mechanics and Part Specialist committed to helping each other repair and keep trucks on the road.
A place for mechanics and technicians to discuss problems with trucks or diesel equipment.
Discussions on real world problems and repairs for trucks that the industry service bulletins don't cover. Click the logo above to join today
If you would like to join our Forum, where you can chat with other PF-Diagnose users and share ideas and discuss repairs on your equipment, please visit
---
| | | |
| --- | --- | --- |
| | Welcome to your support site | |

| | |
| --- | --- |
| | |
| | |
| | |
| | |
| | |

NEW e-STORE LAYOUT
WELCOME! TO POCKETFLEET DIAGNOSTIC SOLUTIONS
MOST BUYERS JUST CAN'T BELIEVE THE PRICE!

You would expect to pay a lot more!

OUR CUSTOMERS ARE SURPRISED!

"You seem to have solved our problem but it seems too good to be true for the pricing I see."

PF-Diagnose

A diagnostic Program for Trucks. Engine, Transmission, ABS, VORAD, Body Controller

A Complete Truck Diagnostic Program for All North American Makes and Models. Read and clear Fault codes, Record or view PID Data, Perform tests and more!

Click here for screen shots and details

READS INTERNATIONAL ELECTRICAL SYSTEM

The only third party software that can read International Electrical System (Body Controller) codes properly.

SAVE TIME ON SERVICE CALLS


WINDOWS 8
TESTED







PF-Diagnose is a heavy diesel diagnostic program for Windows.

Designed by Mechanics for Mechanics

Complete HD Kits available

24/7 EMAIL SUPPORT

Pocketfleet provides fast email support .

(Subject to the support and updates subscription policy)

WE HAVE YET TO FIND A CASE WHERE WE COULD NOT GET PF-DIAGNOSE TO WORK

Pocketfleet Vehicle Diagnostic Software and Protocol Adapters

Visit the downloads Page for various diagnostic bundles and save even more. Buy our HD Diagnostic Kit and save

PF-Diagnose is used by:

Dealerships

Mobile Repair

Municipalities

Leasing Companies

Transport Companies

Research Companies

Individual Technicians

The Military

Fast Code reporting, easy to use, high resolution graphics interface, along with a very low price tag!

We have a winner!

OBD-II Diesel and CAN support is now available in our top edition and will work on practically any vehicle from your Ford Fusion to your GMC Duramax right up to your International Highway Tractor-Trailer...

3 editions now available Basic HD, HD and FULL with OBD-II editions are updated individually.

---

Tested on the Acer Windows ICONIA Tablet
| | |
| --- | --- |
| | Software Development Since 1991 |